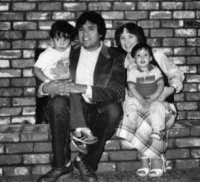 On December 31, 1981, John and Debbie Lopez purchased the franchised ice cream store at the corner of Olive and D, next to Smith's Market, in Porterville, CA. We moved from Merced, along with Stephen and Tim, our two young sons.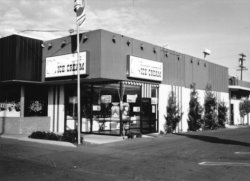 For the next 16 years, we operated the ice cream store along with our growing family, adding Sam, Leah, David, Daniel and Katie during that time. Choosing to homeschool the kids allowed them to begin working around the age of 10. The store has played an important role in their business education, teaching them also the value of serving others, an integral part their Christian education as well.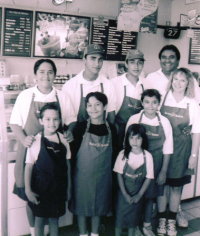 During these years as a franchise, our franchisor seemed to be

getting further and further away from ice cream. Changes in ownership, mergers, and corporate decisions that emphasized other products (which eventually led to them discontinuing their actual ice cream production; it is now contracted out) pushed us to independence.

On November 1, 1998, All About Ice Cream was born, named out of frustration that our former franchisor was no longer all about ice cream (plus, A comes before B alphabetically, insuring our presence above our former name on most lists…..)
We continued running the business as usual on the corner of Olive and D, next to Save Mart Supermarket, keeping our emphasis on Ice Cream.
For the next 10 years, without a franchisor to fall back on, we learned a lot about self-reliance. We had to do more ourselves, such as baking our own cakes for our increasingly popular ice cream cakes. A big plus is that the end product is far superior than previously trucked in frozen desserts. We also found a niche in the wedding cake market—both ice cream and regular wedding cakes. When our lease was up in 2008, we decided that we needed more space to expand our cake business, which was quickly growing larger than we could accommodate in our 900+ sq. ft store.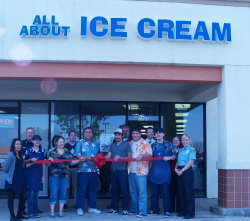 On February 10, 2009, we moved into our new location, 1323 W. Henderson, in the Target shopping center. With a bigger oven, more refrigeration, and more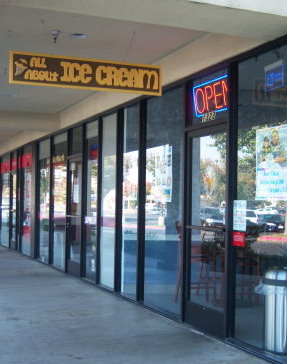 space, we can manage more efficiently, and with a larger customer area, we can serve Porterville better.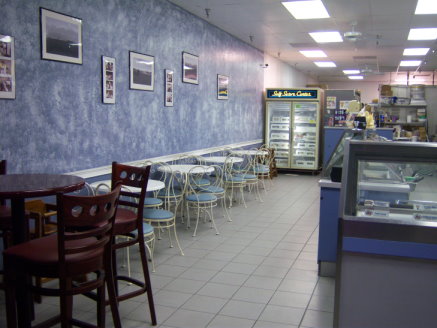 ---



For those of you who ask about the children you saw grow up in the store over the last 40 years, here's a quick rundown

:

Stephen, 42, lives in Roseville, CA

with his wife Krista and kids.
Tim, 41, lives in Temecula, CA . He and his wife Jenna have 2 children.

Sam, 36, lives in Fresno with his wife Michelle.


Leah, 35, married Jeff Ince in 2014 and lives in Temecula, CA. She was recently widowed. Their son was born in March 2020.




David, 33, lives in Colorado

with his wife Janell.


Daniel, 31, works at the Best Buy distribution center in Dinuba, lives sometimes at home (at least his stuff is still here) and does graphic art when he can.

Katie, 29, recently married

Marcus Camarena and became step-mom to Matthew. She works at McDermont X.

(If you want to buy an ice cream store, one may be for sale...)